They're playing his songs
Conductor Marvin Hamlisch leads the Pasadena POPS through an opening-night concert based on his own Broadway musical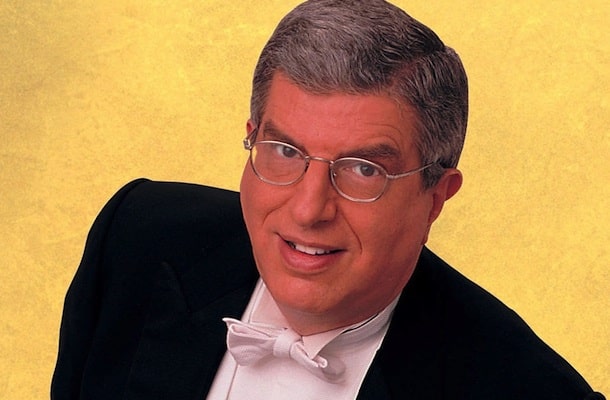 One can only imagine just how crowded Marvin Hamlisch's fireplace mantle must be. Most people put up their kids' soccer trophies or their Salesperson of the Year plaque. Hamlisch has to find space for three Oscars, four Grammys, four Emmys, a Tony and three Golden Globe awards.
To say nothing of his Pulitzer Prize for drama, Hamlisch is one of only 11 people ever to win all four of the biggest awards in show business — the Oscar, Tony, Grammy and Emmy. And for the second year in a row, Pasadena has had the honor of having Hamlisch wield the baton as the principal conductor of the Pasadena POPS, a role he will resume this Saturday as the popular musical ensemble kicks off its Summer Season 2012 opening concert at their new onstage home at the Los Angeles County Arboretum and Botanic Gardens in Arcadia.
Their move to the Arboretum, from their last performance space outside the Rose Bowl in the Arroyo Seco, displaces the California Philharmonic from its longtime home. That ensemble will debut its own summer season, known as the Festival on the Green, at Santa Anita Park on June 30.
"Working with these musicians has been a total delight," says Hamlisch, who also conducts POPS orchestras in Pittsburgh, Milwaukee, Dallas, Seattle and San Diego. "Since we're so close to the movie industry, nearly all of our performers work in the studio orchestras creating the music for television and films."
That fact could be the key to the success of this Saturday's opening concert, which will be a special concert adaptation of Hamlisch's classic Broadway musical "They're Playing Our Song," featuring guest artists singer/actress Lucie Arnaz and legendary comedian Robert Klein in the singing leads. "Song" featured a book written by Neil Simon, but Hamlisch composed the score while his former songwriting (and romantic) partner Carole Bayer Singer dreamed up the lyrics.
The original Broadway run of "Song" marked one of Hamlisch's earliest career milestones, following a childhood in which he grew up surrounded by music thanks to his musician father as well as 13 years of his own training at the prestigious Juilliard Conservatory of Music. Hamlisch also fondly recalls being the main piano accompanist for Barbra Streisand during her breakthrough phase in New York.
"Her voice was just magical, and it was exciting to perform with her because you knew you were in the presence of something special that would become a world classic at any moment," says Hamlisch. "And it's been great to share a lasting friendship with her ever since as we each achieved our career dreams."
While Hamlisch has become an indelible name in composing and songwriting, it's surprising that he is quick to note that he modestly regards himself as "a gun for hire."
"I'm not someone who always has a tune in his head just waiting to jump out," says Hamlisch, known for such classic melodies as "The Way We Were" and the scores for "The Sting" and Broadway's "A Chorus Line."
"When I go out to lunch, I don't whip out a pad of paper and start singing 'I'm having a lovely sandwich.' I also don't write the lyrics in the first place," he says. "I need to read the book you want adapted, or see the footage you want scored. All my composing comes from reacting to and building on other existing material."
The current POPS Summer Season has plenty of interesting material to work with as well. He and the POPS will play host to five-time Grammy-nominated pianist Michael Feinstein on July 21 as they back him on a tour of classics from the Great American Songbook. The evening of Aug. 18 brings the show "La Dolce Vita," in which the POPS will back the pop-opera group Poperazzi as they sing songs by artists ranging from Frank Sinatra to the Stones in operatic fashion. And finally, the season comes to an end on Sept. 8, when guest pianist Kevin Cole teams with the orchestra to perform George Gershwin's immortal "Rhapsody in Blue" as part of the season's closing "Gershwin on the Green" concert.
"I'm very excited to bring this collection of music to the fans of the POPS, and in such a stunning venue as the Arboretum," says Hamlisch. "You can't beat the combination of beautiful music in a beautiful setting."
The Pasadena POPS open its Summer Season 2012 with "They're Playing Our Song" at 7:30 p.m. Saturday at the Los Angeles County Arboretum and Botanic Gardens, 301 N. Baldwin Ave., Arcadia. Call (626) 792-7172 or visit pasadenasymphony-pops.com.