'Watch' Her
Oscar-winning actress Anjelica Huston hits the Alex Theatre Nov. 20 to discuss her memoir 'Watch Me'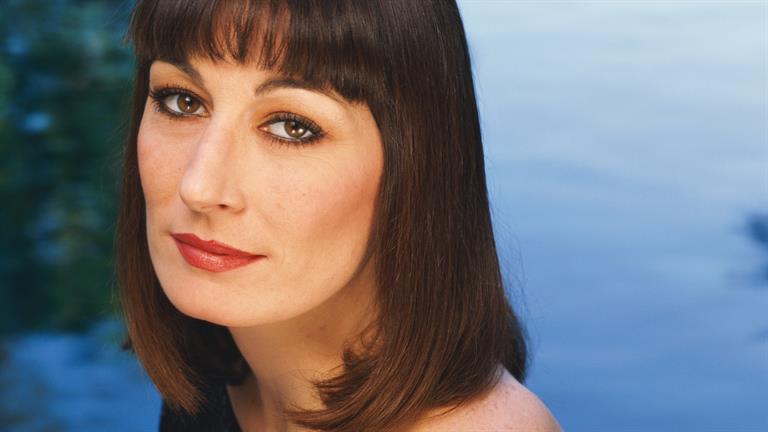 G
rowing up as the daughter and granddaughter of Hollywood royalty, Anjelica Huston had great expectations placed upon her by the arts world from the beginning of her life. After all, her father was legendary director John Huston, her grandfather was revered film star Walter Huston and her mother was famed ballerina Enrica Soma.
Anjelica acted in some of her father's films as a child before becoming one of the most sought-after models in the world. But when she was in a severe car accident at age 29, she found the drive it took to finally succeed on her own terms in Hollywood — fueled by the memory of director Tony Richardson telling her that she would never do anything with her life.
Seething with inner frustration, Huston thought in reply, "Watch me." And using that fiery spirit, Huston has gone on to become one of the most exotic film actresses of the past 30 years before pivoting to start a new career as the writer of two critically acclaimed memoirs, including "Watch Me," for which she will appear next Thursday, Nov. 20, in the prestigious LiveTalksLA series of celebrity discussions held at the Alex Theatre in Glendale.
"For me, the crash was very much an epiphany," Huston says. "I really got away with my life on that one. I was badly beat up from the crash but I had this renewed sense of purpose. It was the first time I thought I need to take things, not wait to get what I wanted. I had to effect change. I turned it around at that point and found people who helped me, including my great acting teacher Peggy Feury. She changed my professional life tremendously."
Indeed, that shift into being a serious actress and making that decision as a grown adult was a key step in breaking free from the shadow of her father's towering career. It was her own decision to make, rooted in a childhood in which she was encouraged to think freely for herself.
"My father didn't expect me to be a child actress, but to read and be well informed, and those were his emphases rather than imparting that I should be successful," says Huston. "He was more concerned that I developed my intellect and made good choices."
While she has made plenty of good choices in her film career, with iconic turns as Morticia Addams in "The Addams Family" films and as Etheline Tenenbaum in "The Royal Tenenbaums," Huston has made some famous choices in her private life as well. She spent four years from age 17 to 21 as the live-in girlfriend of fashion photographer Bob Richardson before counting king of the Hollywood bad boys Jack Nicholson as a longtime paramour and ultimately marrying acclaimed sculptor Robert Gordon in 1992 and staying with him until his death in 2008.
"How is it to be with Jack? Great, glorious — and tough," Huston recalls. "It was many things but never boring. And with Bob [Graham], I first saw his work in the 1984 Olympics here in Los Angeles, and I wanted to get to know him. He was a consummate artist, a wonderful man, and a very deep person.
"You get used to a certain level of brilliance, and my father was definitely brilliant," Huston continues. "It's inevitable you seek that same brilliance in other people. I didn't but I've had some extremely interesting relationships with fascinating people, both men and women. I've always played across the board and I'm proud to have friends who are preteenagers all the way to folks in their 90s."
Applying the life lessons she gleans from across the age spectrum, Huston has always had a thirst for knowledge and new experiences. In fact, the reason she was able to produce two memoirs within two years is that her first shot at a memoir ran 900 pages and her publisher proposed dividing it in two.
The result is that "Watch Me" picks up with her return to Los Angeles after the richly detailed 1960s upbringing in Ireland and England that she described in "A Story Lately Told." Displaying a rich command of her writing abilities, Huston grabs readers with her poetically detailed remembrances from page one and carries them through her encounters with the entertainment elite over the next four decades.
Huston credits her way with words and storytelling skills to her family's aversion to television during her childhood years. Deep conversation was the norm in her household because Ireland didn't even have television until she was 12, and Ireland's tradition of oral history also helped hone her abilities. That love of great writing also carries over into how she picks her roles.
"Initially, I come away with a feeling from a script," says Huston. "Whatever it is about feeling, sort of like channeling, will start to influence your perception of a character. How she is, how she walks, what she wears. I build a character from the floor up."
Huston's characters often have a stately surface undermined by darker emotions under the surface, and she took a moment to explain that part of her process.
"I like concurrent emotions, confliction, visually in a movie," says Huston, who counts her Oscar-nominated role in the 1990 thriller "The Grifters" as her favorite. "I like layering. So much of the time people are either black or white, but I like filling in the black in the white and white in the black. Rodmila in 'Ever After' is a great part because you find out why she's unhappy and cruel — but then we see that the world is that way to her. I like to find the truth in things — which is neither black nor white."
Having starred in dozens of films, written two memoirs and directed three films of her own — the best advice she learned from her father was "cast well" — at age 65 Huston has plenty of zest left. Looking beyond next week's appearance at the Alex, she's excited to star opposite Martin Sheen in the classic two-person play "Love Letters."
"Every time I go to work, I think I can't do it, and when I make it through, I rejoice," says Huston. "The greatest challenge is always the next thing I'm doing."
Anjelica Huston will discuss her life, career and memoir "Watch Me" at 8 p.m. next Thursday, Nov. 20, at the Alex Theatre, 216 N. Brand Blvd., Glendale. Admission is $27 for general admission, $50 for reserved seats and a copy of "Watch Me," or $95 for premium seats, a copy of "Watch Me" and a VIP reception from 6:30 to 7:30 p.m. Call (818) 243-ALEX or visit livetalksla.com.